Life-saving information for ANY emergency!
Scan personal QR ID with any smart phone or tablet.
Instantly alerts first responders of your medical conditions and emergency contact information.
Give QR sticker to elderly relative so if they become lost, you can quickly be contacted.
For children, alerts others to behavioral, medical or other conditions to keep all safe.
If traveling with children, enter your current location and phone number in child's profile so you can be contacted quickly.
Can enter 20 profile options including medical alerts, prescription list, allergies, blood type and contacts.
Your emergency contacts can be informed immediately if you are seriously hurt, become ill or ever need immediate help.
Place QR stickers on all valuable personal items so if lost, you can quickly be contacted to retrieve them.
Upload records, x rays that medical personnel can quickly view/download when needed.
Any hospital/doctor around the world can view and download your vital medical info if you're incapacitated or unable to communicate due to language barrier.
Private storage locker for important documents.
QR code stickers are permanent and highly water resistant.
concerned about having a
medical emergency

& not being able to respond with

important information?

get peace of mind

now!

Watch the video to learn how.

click here to schedule a free consult!
A Personal Emergency Profile from Account Medical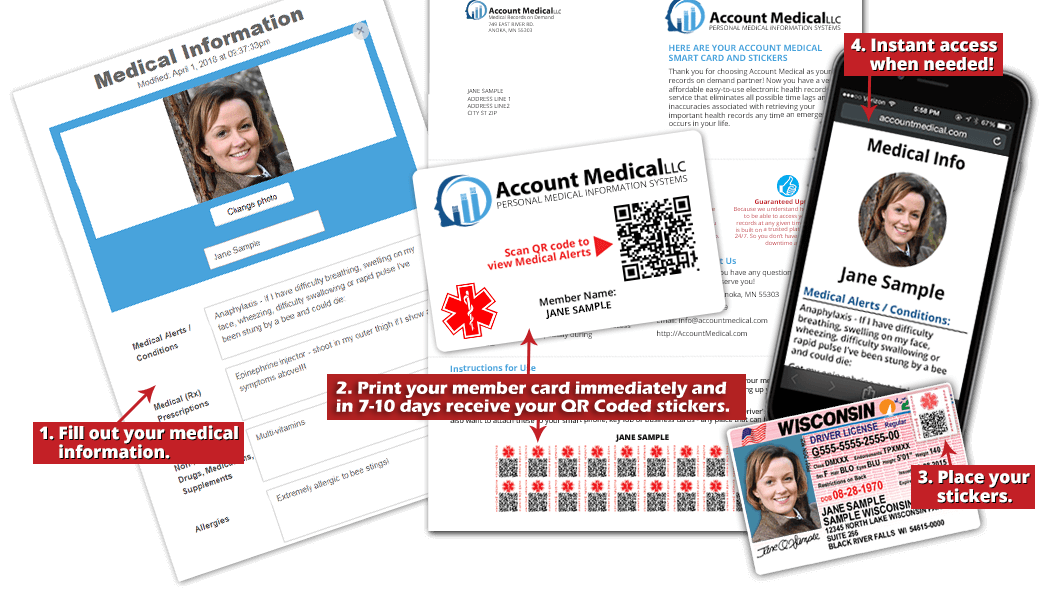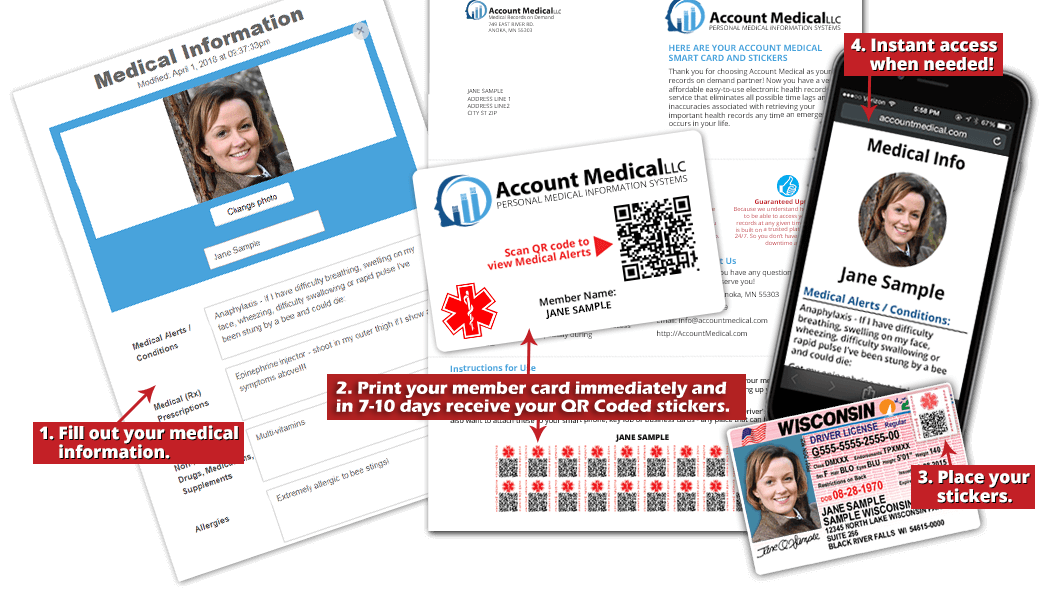 Now you have a very affordable easy-to-use medical records service that eliminates all possible time lags and inaccuracies associated with retrieving your important health records any time an emergency occurs in your life.
Whether it's a paramedic, loved one, friend or a good Samaritan who responds to your emergency first, our proprietary technology will instantly provide the timely life-saving information needed that can save your life!
What's also so unique about this system is YOU have complete control over the information you provide, it's secure and very easy to set up.
Our Personal Emergency Profile System is the ultimate solution for everyone, especially the elderly, children and those who travel. Get immediate access to your life-saving information when it's needed, INSTANTLY!
Here's How Our System Works
1. Choose a Monthly or Annual subscription
2. Login to Your Account
Once you receive your confirmation email, you can access your account by clicking on the "Account Access" link on the top of the AccountMedical.com home page. Enter the login credentials that were provided in your email.
3. Upload Your Information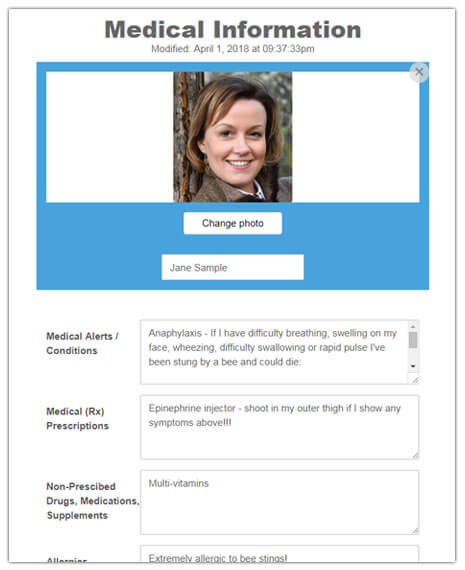 Each account contains a "profile template". Log-in anytime to edit or update information. Understand that "only" the account owner can access to make edits to your profile. Scanning your QR Code during any emergency will provide a "view only" mode of your personal emergency profile. When filing out the profile template, "do not" post any sensitive or private information.
Here are fields you have the option of filling in:
Your picture (upload)
First/last name
Medial alerts/conditions
Prescribed medications list
Non-prescribed medications/supplements/drugs list
Other important information
Blood Type
Emergency contacts
Primary care physician
Insurance provider
Supplemental insurance info
Medical documents, health directives, etc. (upload documents - available to paid subscribers only)
4. Check the Mail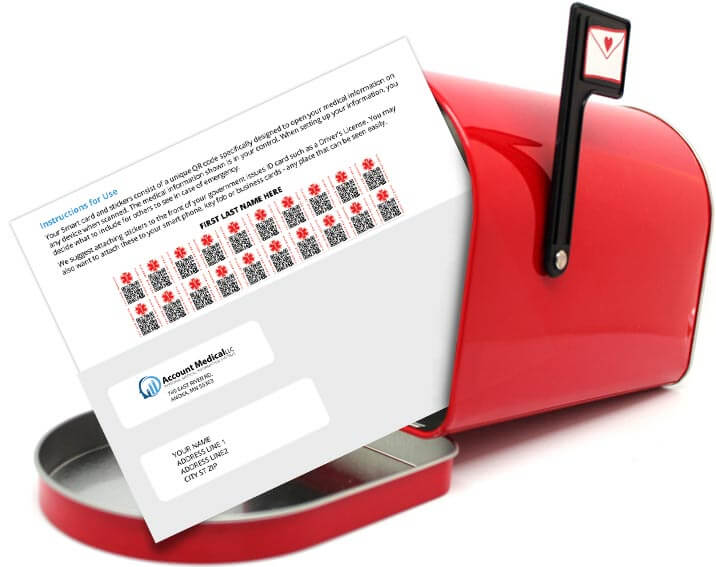 You will receive "20" of your assigned QR Coded stickers within 4-10 days via USPS. Suggested uses for stickers are:
Front of your driver's license or State-issued ID card
Passport
Medical Alert bracelets and necklaces
Medical Alert devices
Health insurance cards
Back of your smartphone
Dashboard of your car
Your child's backpack or lunchbox
Key fob
Your business cards
5. Immediately test your QR Code stickers.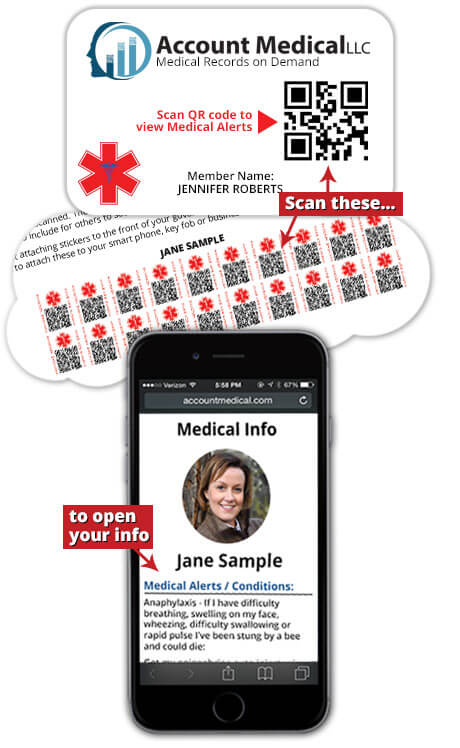 If you don't already have a QR code scanner, click one of the icons below to download and install free for your iOS or Android device.
Scanning your QR code will provide an instant view of the health information you uploaded.
If not, please contact us for help at (888)723-0786 or dmcdonald@accountmedical.com.
Need a scanner app?
Download and install the free QR scanner app:
6. Have Peace of Mind
Enjoy the peace of mind in knowing that under any circumstances, your personal emergency profile is ready and available anywhere in the world!
About Account Medical LLC:
Account Medical is a Personal Emergency Systems company that specializes in developing cutting edge technology. Account Medical's mission is to dramatically reduce the complexity and confusion usually associated with the operations and maintenance of health profiles and records. We make it a mandate to assist in the care of our elderly loved ones, children, and family members while assisting healthcare organizations and others to increase not only their productivity but also to enhance their ability to access patients profiles instantly, especially during emergencies while staying H.I.P.A.A. compliant. There are no exceptions. Account Medical LLC is a registered veteran-owned small business (VOSB).
How to Contact Us
Give us a shout if you have any questions or ideas on how we can better serve you!
Minneapolis, Minnesota
Phone: (888)723-0786
Email:
dmcdonald@accountmedical.com
Simple, Instant, Reliable
When Help Arrives?
Each year, thousands suffer from complications or even death because of no information were not immediately available especially during an emergency.
Let's face it: There will come a time when you will need immediate medical care. When that time comes, if loved ones are not near and you're unable to communicate, how will those coming to your aid know who your emergency contacts are or what medical conditions or allergies you have? How about your medications? And, who is your primary care physician? How will they know?
What if you're allergic to penicillin and the paramedics, not knowing your medical details, give you a penicillin shot? What if your son has a severe allergic reaction to bee stings and is found by his friends with intense swelling and having trouble breathing? How will they know what to do in this critical life or death situation?
These are just a few situations that people will find themselves in. And, because getting the proper medical treatment is so timely, you need a simple but powerful tool that will instantly supply the necessary information to anyone giving aid.
This is exactly why a Personal Emergency Profile is so important!
Current Hospital Electronic Medical Record Systems Are Problematic
In an article published by the New York Times titled, The Ups and Downs of Electronic Medical Records, author Milt Freudenheim reports that doctors are complaining about electronic medical records systems being time consuming, hard to use and very slow. There have even been reports of records getting mixed up, causing confusion and costly, dangerous mistakes. These systems even experience crashes that render patient records, inaccessible.
Worse, vital medical information is not available to first-responders in situations such as car accidents, fires, in-home or school playground emergencies, etc. There's no way to know what a person's medical conditions are at a time when that critical information is most needed, UNTIL NOW...