Account Medical Sales Staff
The following is a 2-part information section.
Part (1) will help explain the online order process to clients.
Part (2) will explain our new "On Demand" safety program and service to company's and businesses.
(Please use any material on these pages in marketing campaigns)
Would you like to sell our services?
If you are interested in joining our sales team and want to learn more, please call us at: 651-401-8089
or send us your inquiry email to:  admin@accountmedical.com
Thank you for your interest!
Part (1):
Assisting Someone To Open A Personal Account Online
Step 1: After Explaining Our Service, The Client Will Choose To Pay either a Monthly or Annual subscription
Step 2: Fill Out The Billing Information. Then Select "Next Step" Button:
If the client does not have a PayPal account,
instruct them to use the Pay with Debit or Credit Card button.
Step 3: The Client Will Receive Several Emails With Their Order
Information And Their Assigned QR Code.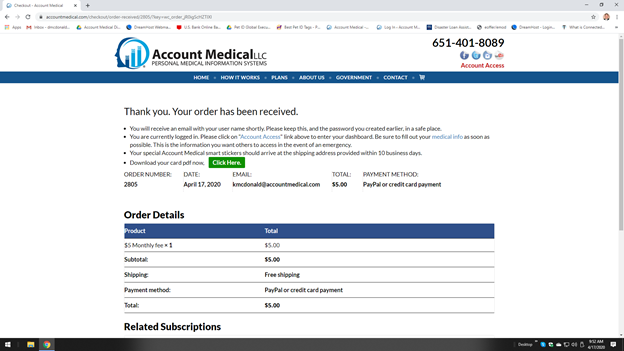 The Client Can Expect To Receive Their "20" QR Coded Sticker Sheet
Within 7-10 Days via USPS First Class.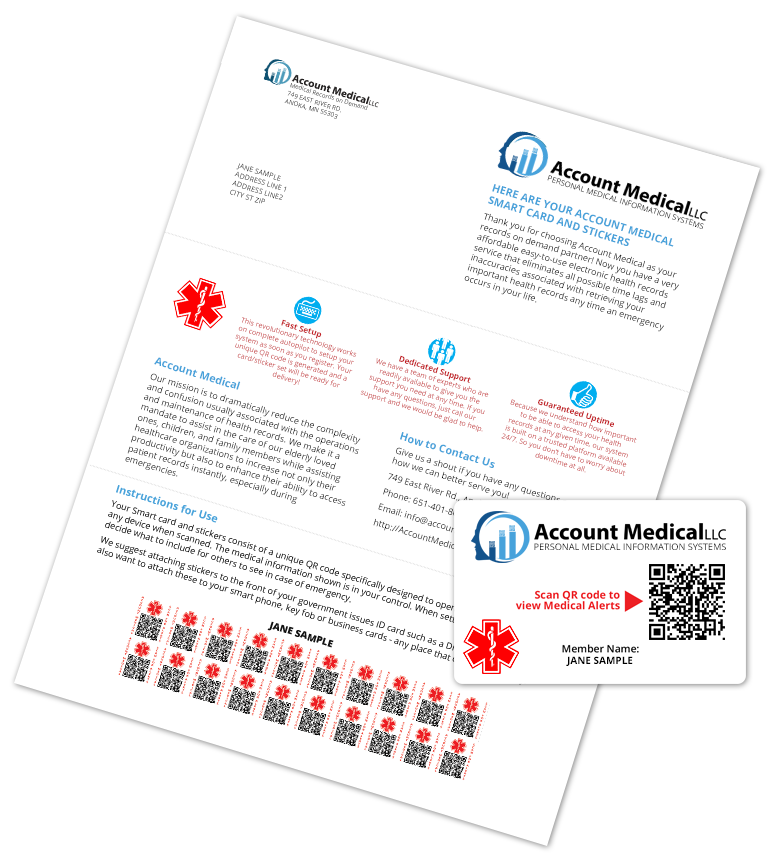 Step 4:  Direct The Client To The Account Access Button On The
Account Medical Home Page and Have Them Type In Their Credentials: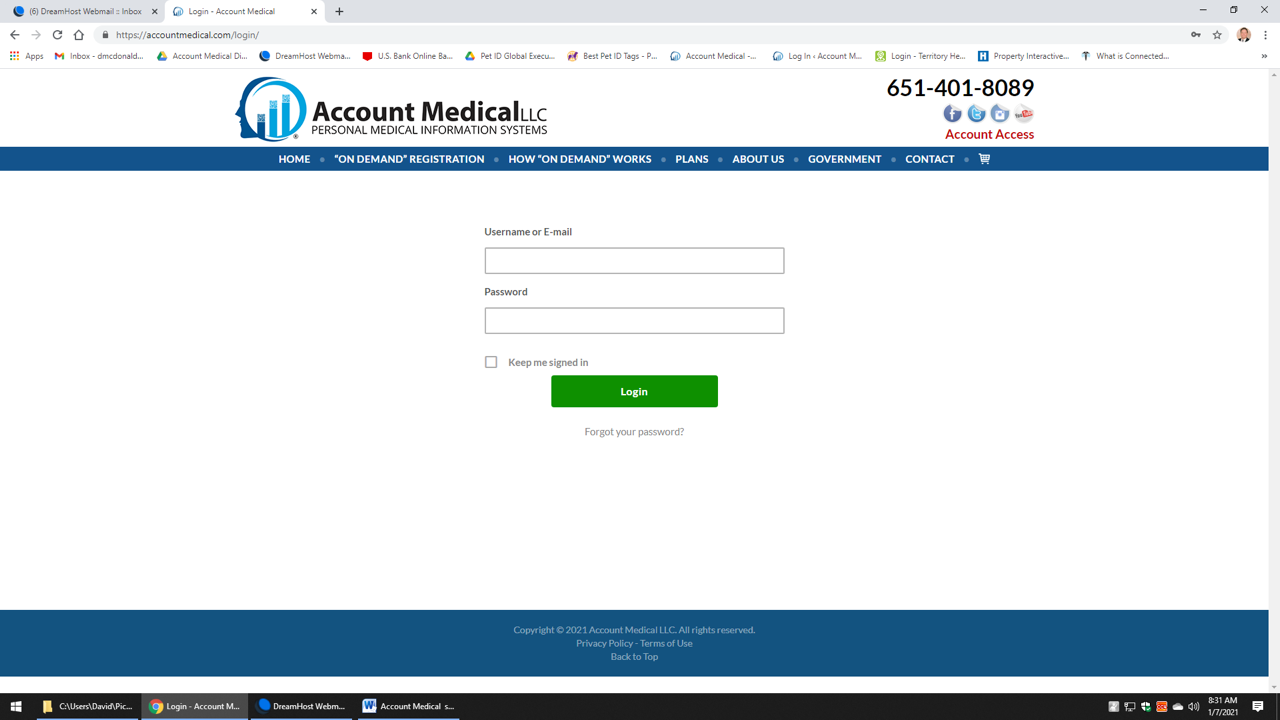 Once Logged Into Their Account, The Client Will See Their Dash Board Page.
Choose The Section They Wish To Edit.
Remember To Click On

SAVE

Each Time An Edit Is Made.
IMPORTANT:


Log Out Each Time After Use. 
Our goal is to provide the absolute best in customer service.
PLEASE remember to "thank" each client for their business.
If they have any questions, call us 24/7 at 651-401-8089
or they can email us at: customerservice@accountmedical.com
Part 2:

"On Demand"
Safety Program by Account Medical
Explaining our new "On Demand" Safety Program and service
"On Demand" was developed with the safety of employees in mind utilizing QR Code technology combined with custom apps and programming. The "On Demand" app/program will provide admins an immediate view of a participants' medical profile to include, alerts, conditions, emergency contacts, and so much more. The "On Demand" service is a "new" safety program and the very latest in technology!
Step 1:
A company must first register their business
Direct the company to the Account Medical Home page and click on the "On Demand" Registration tab and fill out the form.
Click on the Register button to submit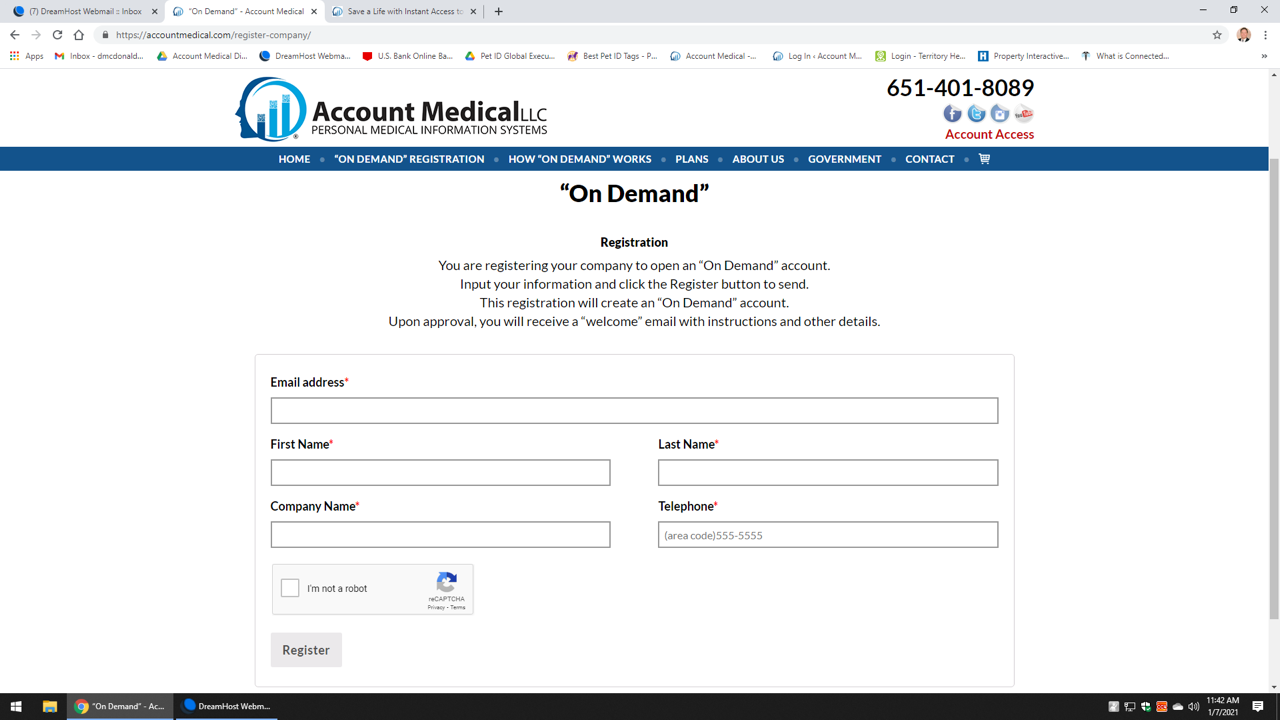 Step 2:
After the company registration has been approved, they can expect a welcome email (see sample email shown below) that will include the company's own private "Uniform Resource Locator" (aka URL) secure link, sign-in credentials, and the "On Demand" app with installation instructions.
Hello
Welcome to the new "On Demand" program!
On Demand is raising the bar on employee safety!
Your "On Demand" account is ready to use and is "free"!
Here is your instructions for using "On Demand":
Download our "On Demand" app here:
After installing the On Demand app, use the following log credentials for your On Demand app and WordPress account:
Login URL: https://accountmedical.com/wp-login.php
Username: dmcdonald@blackboxstar.com
Password: SFc54C@5iPop
For your On Demand app, click the "Submit button" and immediately view your company webpage we have created and a list of your employees.
As employees sign up for their "free" or a subscription account at: https://accountmedical.com they are automatically added to your company webpage.
That's it!
This information should also be provided to your company department heads and administrators.
Now, let's see it in action!
How to use "On Demand" after calling 911:
Step (1): Tap on the "On Demand" app on your electronic device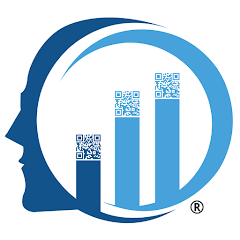 and immediately view your company page with employees names and their QR Code:
Step (2): Locate the injured persons name and "tap" on the QR Code next to their name then scroll to view that individual's Personal Emergency Profile.
Seconds count during any emergency and this is where On Demand shines!
Each Personal Emergency Profile contains vital information of that individual such as:
medical alerts/conditions, prescription list, allergies, blood type, emergency contacts, and over 20 profile options.
With this information in hand, your medical team can take better affirmative action or forward this profile to oncoming EMT's
or to any healthcare facility.
Having access to vitals are critical during any emergency!
How are employees automatically added to my company list?
Step 1: Visit: https://accountmedical.com/
Step 2: Click the "Plans" tab
Step 3: Select the "Free" plan or monthly or annual subscription plan
Step 4: As each employee is checking out, they will need to select your company/business name from the drop down window to be automatically added:
Select your company to be added to "On Demand" ⇓
That's it!
We would love to hear your comments and any experiences when using On Demand.
Call us at 888-723-0786 or email us: admin@accountmedical.com
These "free" business and employee accounts do have profile limitations.
---
For the Company
To upgrade your company or businesses:
$25 per month package includes:
- The "On Demand" app to include software upgrades
- The "On Demand" programming to include account upgrades
- Quarterly reminders about employee safety and the latest O.S.H.A. safety related issues and news
$50 per month package includes:
- The "On Demand" app to include software upgrades
- The "On Demand" programming to include account upgrades
- Custom company webpage
- Customize employee profiles to fit industry needs
- Quarterly reminders about employee safety and the latest O.S.H.A. safety related issues and news
- 24/7 Direct Customer Support Contact Center
Upgrades for the Employee
Any employee who chooses to upgrade and add more features to their Personal Emergency Profile can do so when in their account profile.
All saved edits that an employee makes to their Personal Emergency Profile
will show up automatically on the company's list.
Step 3:
Show them what their custom company home page would look like.
For any emergency, call 911
After calling 911.... now it's showtime!
Now you get to show them the "On Demand" program:
1) Tap the "On Demand" app on your device and immediately view your company home page.
2) Scroll down list of individuals' names and their QR Codes.
3) Tap on their QR Code and immediately view that person's profile!
They can see an interactive program by clicking HERE TO SEE SAMPLE PAGE
Once there, tap on the displayed QR Codes next to the names and see a sample profile page.
Step 4:

 
How are individuals added?
When an individual opens an account at Account Medical, on the shopping cart page, a drop down menu is provided in the Company name section. During the registration process, the system created an account for that company. The individual will select that company name and is automatically added to the company home page registry.
In any emergency, you will have immediate viewable access to a participating individual's profile!
Seconds count in any emergency!
Also, having the ability to contact that individuals emergency contacts is priceless!
Our motto with our "On Demand" system is:
Let's put smart to work!
How do I tell company or business employees about
Account Medical and where to sign up?
You can encourage everybody to visit https://accountmedical.com/ and view the intro video and other information regarding a Planning Guide, Bill of Rights.
If the company is purchasing Account Medical accounts for their employees, choose from either an annual or monthly payment option.
Remember to select your company name in the drop down window.
How to explain the 2 Options being offered
to companies and businesses  
Account Medical will offer 2 Options:
OPTION 1
"FREE" for the 1st year! No contract or commitment....nada. The employees (or businesses) will still have to sign up and pay for their Account Medical subscriptions. After the 1st year and if the company wants to continue, then pay only $600 per year or choose to pay $50 per month.
OPTION 2
Pay the $600 upfront (or can pay $50 per month) we will also include up to "10" Account Medical subscriptions at no charge.
1) Account Medical Explainer Video (2:19)
Explainer video details what is so unique about Account Medical and QR Code technology. This video also explains why it so important to have access to your personal medical profile and the safety net a system like this can provide for anyone.
2) Account Medical Explained (3:52)
This video explains the importance of having an Account Medical account. Having your medical alerts/conditions available could literally save your life!
3) Be confident and informed (3:01)
The reason why Account Medical was created and why we have put this program together. Make an confident decision with the information we have provided on our website. Questions? We are at your service to answer!
4) It's easy to create your Account Medical profile  (0:57)
Creating a profile can be a daunting task. With our system, you will find everything very easy and understandable.
5) Your information is secure, explained (0:46)
In today's digital world all of us need to take precautions with our information. Your information you decide to display on your profile is what you want made known. In your dashboard, there is a private section only accessible by you that can hold your sensitive information.
6) HIPAA (1:17)
Our software and program does not store nor has the capability to store or share any of your information. We simply provide a secure portal to your personal profile. Your information stays safe and secure.
7) Where & how is my information stored? (1:10)
Your information can only be viewed when your profile is scanned thru the QR Code or by you when signing into your account.
8) Can I use Account Medical when traveling internationally? (1:09)
You have global protection! There can be no better feeling of security knowing that in "case of emergency", you are ready! Whether you are traveling domestically or internationally, knowing that you have a voice when you can't speak, can give true peace of mind!
Ready to order? Visit: accountmedical.com
or call (651) 401-8089 and place your order today!
Thank you for trusting Account Medical to securely protect & provide your personal medical information in the case of an emergency!
~ David McDonald, Owner & CEO